To view comments or leave one yourself, just scroll to the bottom of this post.
Happy New Year everyone!
My first blog of 2019.
"Dear January, December has been very kind to me so you have been put on the back-burner for a little while. I promise to make it up to you."
December started well. We had just returned from Spain and almost immediately set off again, this time in the opposite direction to Germany. It was Christmas market time and the start of our regular trips with Chrystal and Charlie. The first to Aachen (by Eurostar) and the second to Nuremberg. The train journey was fun and made a nice change from the stress of our usual budget airline. Picnic on the train, a bottle of bubbly. Very nice.
Aachen was very good but we didn't get to see the market. Chrystal and I went shop shopping on the Saturday and then found the next day was the first Sunday in Advent and the market was closed. We've been in Germany before at Advent and the markets have always been open so this was unexpected. A bit of a disappointment but we more than made up for it in Nuremberg.
Arrival in Nuremberg and nicely tucked up in our comfy hotel we were excited to find all our favourites just a few steps away. Galeria and Bar Fusser opposite which meant saving lots of leg miles as we were backwards and forwards with shopping and didn't have far to stagger after dinner. Despite this we still walked our feet off exploring bright and sparkly shops and even brighter and more sparkly markets. Colourful stalls designed Alpine style jostled side by side wafting out wonderful Christmassy smells, food stalls selling mouthwatering bratwurst, lebkuchen, and gingerbread, the heady smell of the gluhwein (mulled wine) everywhere, and all around people wrapped up warm against the winter weather drinking Christmas out of china boots. Under the cathedral a choir sang Christmas songs on a stage that had been erected for the occassion and above the Christkind with her golden robes, the traditional giver of gifts, looked down.  Wonderfully exciting!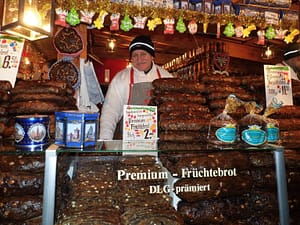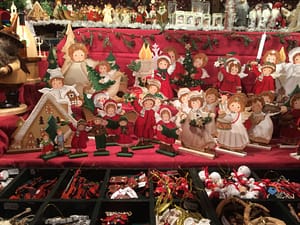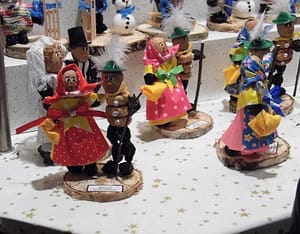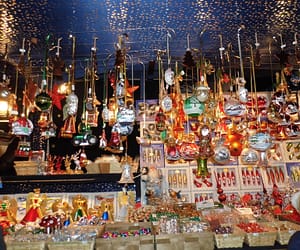 We had a day to spare so Charlie suggested that we went to Rothenberg ob der Tauber. Oh my! What an experience that was. Firstly we went on a double decker train – upstairs of course (what children we are!) – and then travelled through fairytale forests with mysterious tracks disappearing into them before arriving at what must be the prettiest town in all of Germany. Most of it is medieval with cobbled streets, towers and turrets, and narrow windy lanes with houses placed haphazardly going off in all directions. Storks nests perched higher up on tall buildings adding to the overall atmosphere and appearance of the town. Walking through the fortifications into the town is like stepping back in time several centuries. On the corner of the town square is a huge Kathe Wolfart shop, a Christmas shop and museum that is open all year round. The enormous nutcracker standing outside inviting passers by into a treasure trove. The town is magical. It rained all day, that horrid fine rain that soaks miserably through everything, but nothing, absolutely nothing, could take away the beauty of this place or our enjoyment of it. We need to go back. In summer.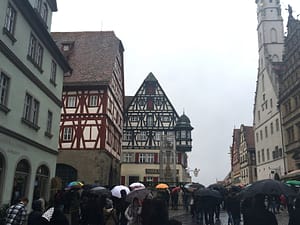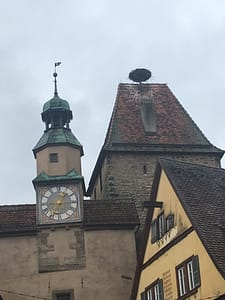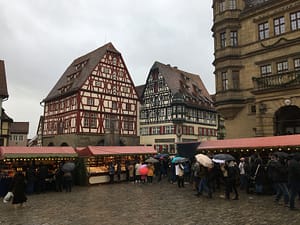 I do love our trips to Germany. They are exciting and fun and just good family time that get the run up to Christmas off to a good start. My favourite time of year. The house is warm, it is filled with the lovely inviting smells of pine, cinnamon, warm apples and baking, and there is a lovely buzz in the air.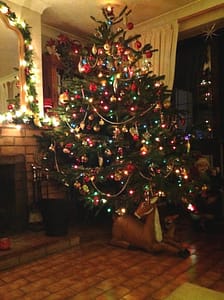 Since the New Year there has been a lot of excitement in the Roberts household as the word from the publisher is that my first book is due to be released in March. Just 2 months away! The cover is decided, formatting done, and everything is on schedule for launching onto an unsuspecting public. Are you ready for this? Watch this space – I'll keep you posted.