To view comments or leave one yourself just click on the date above.
This last month has been amazingly busy, so much so that blogging has taken a back seat, but it has also been amazing fun.
The end of April saw us loaded up and heading off on our annual pilgrimage to the big Jeep rally in Chambon-Sur-Lac in the Auvergne. 9 of us in 5 modified Jeeps were off to have some fun slipping, sliding, and rock crawling through tracks and forests in this beautiful part of France. This year the date coincided with a public holiday so the event was shortened by a day but, boy, did we pack a load in! Being the only Brits there we even got interviewed and photographed for a French magazine. We went up above the snow line and down into valleys to clamber around waterfalls. By a river that ran through a wooded area we came across some prospecters from Poland panning for gold. Adrian managed to impress them with the only bit of Polish he knows, Pivo Prosze – beer please.
Out on a run in convoy with 30 other Jeeps we bounced single file over rocks and through mud and then suddenly came upon a small clearing and everyone stopped. The Jeeps parked higgledy piggledy and everyone got out. Out of the back of one of the Jeeps baguettes, cheese, meat, and wine appeared and was spread out on the bonnet of one of the 4x4s. Lunch French style for everyone in the middle of a forest, a rustic feast, and with copious amounts of wine. 20k still to drive to get to the end but, hey, this is France and there's no flashing blue lights on trees.
| | | | |
| --- | --- | --- | --- |
| Ready for the off. | | Through the forest | Over rocks and through the mud |
| | | | |
| --- | --- | --- | --- |
| Lunch, French style | | Panning for gold | Up above the snow |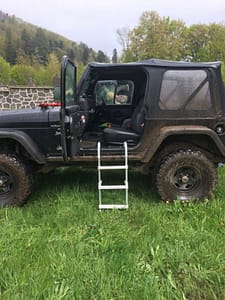 The event over the rest of our party headed for home and we headed south to Figueres. I had a date with Salvador Dalí and a planned meet up with an old
friend who I hadn't seen for over 50 years. Karen and I grew up on the same street. We were like bookends, she lived at one end of the row and our house was at the other end. We went to the same school and shortly after we left she went off to live in Spain and has stayed there. It was great to catch up with her again. Let's not leave it another 50 years, eh?
Figueres was the birthplace and home of the completely bonkers but infinitely talented Salvador Dalí. A visit to the museum of his works was first on the list followed by a visit to his house in Port Lligat. The museum is also the mausoleum that he designed for himself. It's interesting that he chose to be buried with his works and possessions all around him and not with his wife out in Pubol. There's no inscription on his grave. He lays under a white oblong stone slab with a memorial stone in a completely separate room.
| | | | |
| --- | --- | --- | --- |
| Dalí Theatre-Museum | | The grave of Salvador Dalí | Memorial Stone |
His house in Port Lligat is in an area of outstanding beauty, possibly the prettiest part of the Costa Brava. We travelled along narrow windy mountain roads, most of the time with a sheer drop at the side, definitely not for the feint hearted, and arrived at a car park where a family of wild boar were living. Completely unfazed by all the traffic they wandered around the cars eyeing up the picnickers.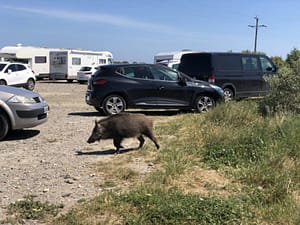 It's a walk down close on a hundred steps to get to the sea and Dalí's house with a well placed restaurant and bar about half way
down. We ate lunch in a spectacular setting overlooking the bay, small fishing boats, a turquoise sea, whitewashed houses, and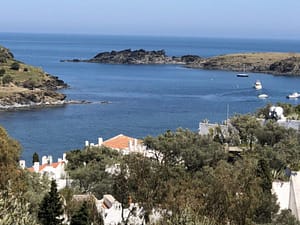 two huge great silver heads looking over a wall. It wasn't difficult to spot Dalí's garden.
Guess which one is Dalí's house.
The garden is beautiful, overlooking the sea, on several different levels, it is quirky and full of Dalí's imagination. From the man made out of a rowing boat to huge flower filled teacups and the iconic Dalí eggs, it was all there. His presence is everywhere. Full of art works it is also serenely peaceful, possibly an antidote to some of his madness. I can see why he loved being here. Inside the house was a bit bohemian but I was surprised at how conventional so much of it was. There are some oddities, like his stuffed animals and cricket cage, but otherwise most of it is surprisingly normal. There is a lovely touch in his bedroom where there is an oddly angled mirror. Port Lligat is the easternmost point in all of Spain and so Dalí placed the mirror so that he could lay in his bed and be the first person in Spain to see the sunrise. Their bedroom is surprisingly spartan. There are frills and mirrors but mostly it's rather bland. He and his wife, Gala, had separate beds side by side. Gala had planned to die in her castle in Pubol. When she unexpectedly died at Port Lligat they propped her up in the car as if she were still alive and drove her there. For anyone still questioning Dalí's sanity I'll just leave that there for a while.
| | | | |
| --- | --- | --- | --- |
| | | | |
| | | | |
| --- | --- | --- | --- |
| Pirelli tyres and Mae West's lips | | Outdoor dining room | The penis pool |
| | | | |
| --- | --- | --- | --- |
| Dalí's bed on the left. From here he would watch the sunrise in the mirror. | | | The sunrise mirror. |
Unfinished painting of Gala

Left, Inside Dalí's studio. Gala died before the painting could be finished.
Right, For his huge paintings Dalí used an ingenious pulley system. He would sit in the chair in front and paint hoisting the painting up and down as he worked.

The pulley system
When we left Figueres we had planned to do the journey in small hops visiting anywhere that took our fancy along the way. We weren't on the road long before what did take our fancy was to just go home. We'd had a great trip, done some fantastic things, met up with an old friend, and just felt that we couldn't top that. It was an easy ride, an 11 hour journey but smooth and comfortable and we still arrived home in daylight.
Just one more photo. Dalí woke up to see the sunrise from his bed, this is the view from mine. It's good to be back.