A Day Trip to Seville.
To view comments or leave one yourself just click on the date above.
It's wet, cold, and really rather nasty in South East England today so I'm taking myself off to sunny Seville for a day out.
I've contacted my friend Tina Wagner Mattern (world famous on WLM) and she has reserved me 2 first class tickets on her exclusive Imaginair airline, and I'm off.
I fancy a walk along the river, maybe stopping for a drink in a rooftop bar overlooking colourful Betis street in the Triana district, the vibrant and exciting gypsy quarter of Seville where Carmen was born.
| | | |
| --- | --- | --- |
| Cruzcampo and a view. From a rooftop bar colourful Betis Street and the Triana calls. | ….. | After soaking up the sun on the roof maybe a wander downstairs to the river to look at some of the statues and watch the tour boats gliding up and down the Guadalquivir. |
| | | | | |
| --- | --- | --- | --- | --- |
| | ….. |  On the one side, at the water's edge, the monument to tolerance by the sculptor Eduardo Chillida and on the other, outside the Teatro de la Maestranza, the statue of Mozart who set many operas in Seville. With his foot on a chair, fiddle in one hand, and music in the other this could be the moment when he was inspired to compose The Marriage of Figaro or Don Giovanni. | ….. | |
| | | | | |
| --- | --- | --- | --- | --- |
| Then a walk along the river to the Torre del Oro | ….. | | ….. | taking a left up into the Santa Cruz district and a trip to the Alcazar. |
After the Alcazar a walk around the old town. Through the winding alleyways of the Juderia where the arches were built so low to stop anyone entering on horseback. Quaint houses, pretty plazas and streets so narrow that balconies almost touch.
Through the streets where Carmen used to dance and meet her lovers.
And then a stop for a leisurely lunch in a leafy square. Plaza Doña Elvira would suit me nicely today, Restaurante La Cueva I think, I fancy fish. Let's have a look at the menu – hmmm, the grilled Dorada looks nice.
| | | |
| --- | --- | --- |
| | ….. | |
I'll have that and sit for a while and watch the world go by while I eat.
After lunch, just a few steps away from the restaurant, a nice cool walk around the Cathedral and a stop for churros before a walk to Las Setas in Plaza de la Encarnacion.
I'm not climbing the Giralda tower today, I don't feel like it.
The view from the top this giant mushroom is amazing.
| | | |
| --- | --- | --- |
| | ….. | |
A whole 360 degree view of Seville, and the sunset from the top is breathtaking. This work of art is the largest man made wooden structure in the world.
There is just time after this  for a walk across the Puente Isabel II bridge for tapas and some people watching in the Triana district before home.
A perfect end to the day. You are welcome to join me.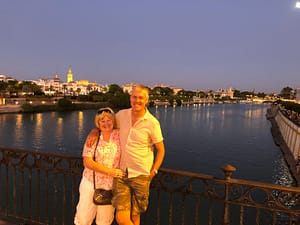 I feel better already.