Finding my mojo.
To view comments or leave one yourself just click on the date above.
We are living in strange times. What with covid, brexit, school closures, and social distancing, no touching, no hugging, and masks are de rigueur, whatever we considered as 'normal' is gone and has been replaced by something that I am finding completely alien. Staying safe is a priority and we all have to do what we can to ensure that we stay as healthy as possible. Government advice is so cock-eyed and erratic that we are having to dig deep into the well of common sense to protect ourselves as best we can.
The most difficult part for me has been distancing myself from my family of super-spreaders. They are all either working at the coal face of public interaction, at college, university, or just being a social butterfly to keep sane. Thank goodness for phone calls, skype, and social media. Adrian and I have hunkered down and are content with each other but we do miss them, and we are only on week 1 of the second lockdown! Is it just me or does anyone else feel that because of the length of the first lockdown and the subsequent restrictions that this second set has hit harder and quicker than before?
This year has seen lots of cancelled trips and events but, in that respect we are no different to anyone else. The upside has been that loads of work has been done in the house and garden that would have been left. We have grown loads of fruit and vegetables, built raised beds and fruit cages, laid a gravel bed, painted my studio and re-roofed it, and walked for miles in our woods.
..

A lot of work this summer but oh so worth it.

Left: Before pic. A work in progress. The back breaking shovelling of gravel hadn't begun.

Right: Sporting a new roof, freshly painted, and the gravel bed finished. A nice shady spot behind the bay tree. I love my shed.

.
..

On one of our walks in the wood we came acrosss this glorious patch of toadflax in a clearing. There were several patches. This is the largest. We found it suddenly and it was so uplifting and cheerful.

Right: Toadflax close up. Such a beautiful and delicate flower, like tiny snapdragons.

.
To combat a dry spell where my motivation for reading and writing disappeared I have spent days baking up a storm and trying out new recipes. This afternoon I am going to make some crab apple relish. Move over Delia!
A glut of damsons was turned into jam, jelly, ice cream, sorbet, and fruit leather. We gave away loads to neighbours and were richly rewarded with an exchange of plums and promises of produce. A visit to the neighbours was usually met with the response 'Oooh, what can we give you in return?' In a funny sort of way this enforced staying at home has brought our tiny community closer together.
………………………………..

The results of yesterday's efforts.

Carrot and pepper soup, celery and cheese loaf (recipe below), home made rolls, Madeira, and a slightly overdone cherry cake.

.
So, I'm back! My mojo has returned – it was hiding in the baking cupboard – and I have picked up a book for the first time in months. Generously gifted to me by the author I am currently reading a fabulous book called Plum, Courgette, and Green Bean Tart by Lisa Rose Wright where the author bought a wreck of a house in Spain in need of renovation. It has started a trip down memory lane for me as it has brought back so many memories of when we bought our first  house in El Nacarino. It's fun watching Lisa and her partner discovering a new country, meeting new friends, trying new food, and immersing themselves in the life and culture of their new land. It's fired me up again to get out the draft of my 3rd book and get writing again. Thanks Lisa.
The link to Lisa's book. https://www.amazon.co.uk/Plum, Courgette & Green Bean Tart
Celery and cheese loaf recipe.
I wish I could claim to have invented this recipe because it is so simple, so quick, so foolproof, and so absolutely yummy. The honour for that goes to Mary Berry.
Oven temp: 220C. (200C fan) Gas 7.
Cooking time 55 minutes.
You will need:
1lb self raising flour.
2 teaspoons salt.
1 1/2 oz butter.
3 large sticks of celery.
1 clove garlic.
1 egg.
½ pint milk minus 2 tablespoons.
Grease a 2lb loaf tin. Sift flour and salt into a bowl and rub in fat until mixture resembles fine breadcrumbs.
Wash and chop celery finely. Crush garlic and grate cheese coarsely. Add celery, garlic, and cheese to flour. Beat egg and milk together, add gradually to dry ingredients and mix to form a soft dough. Knead lightly and quickly on a floured surface, and then shape into an oblong. Place in the loaf tin and bake in a hot oven for about 55 minutes.
Turn out and cool on a wire tray. Serve fresh with butter. Enjoy!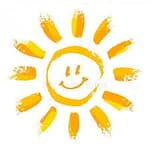 Next time: Whilst I can't physically get back to Spain Imaginair is still flying and I'm booked on it. Come and join me on another day trip to Seville. This time in the steps of Carmen. I'll see you there. ¡Buen Viaje!